PRODUCTS
MAIL ORDER. Although you can't order online we do send out orders. Just simply decide what you would like and either ring 017683 71124 or email jo@country-flavour.co.uk with your order and we will take it from there.
Prices below don't include postage and packing.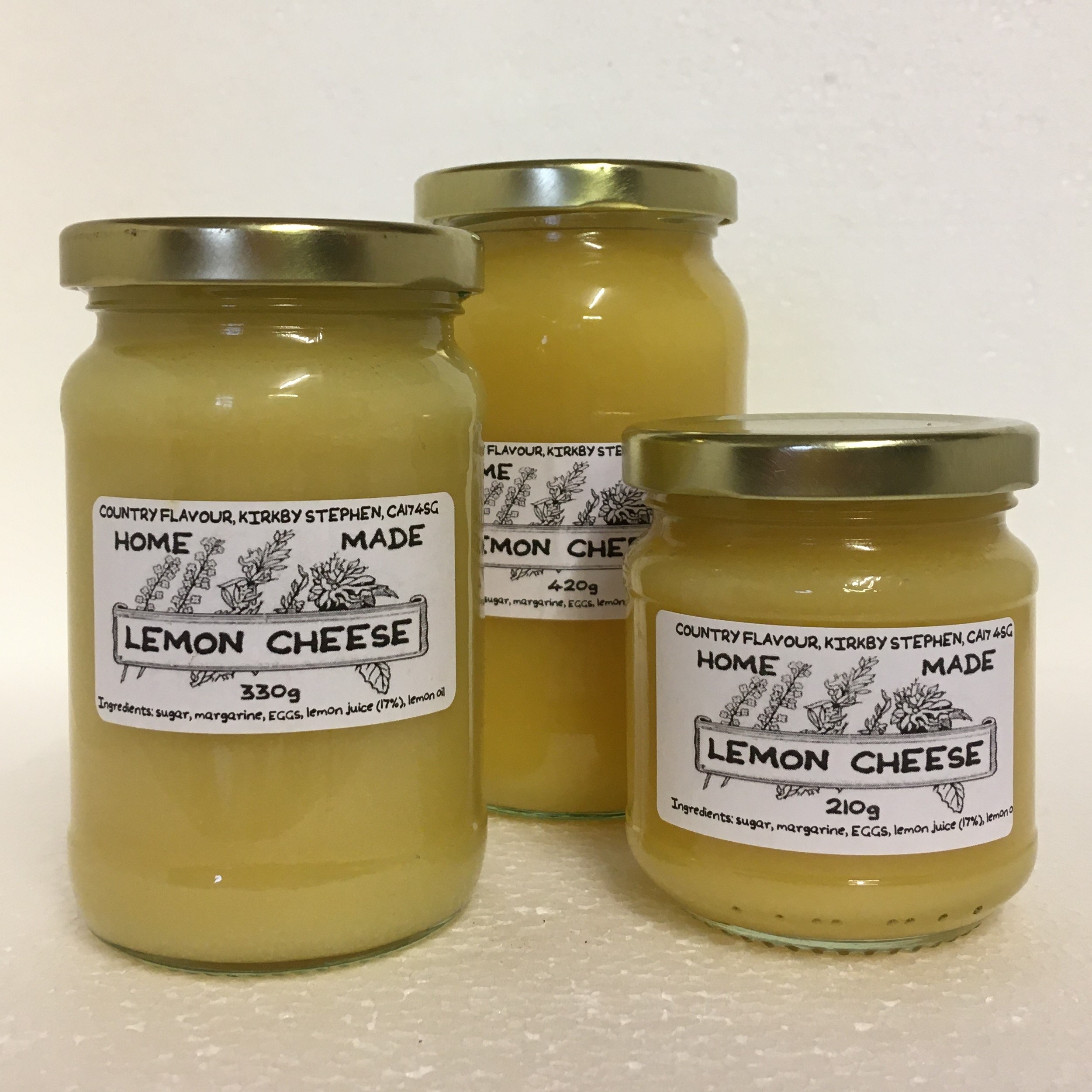 LEMON CHEESE
Lemon Cheese is a traditional name for Lemon Curd in certain areas. Lemon Curd and Lemon Cheese are made in the same way with the same ingredients. Our Lemon cheese has a rich tangy flavour due to the finest ingredients in our traditional recipe.
Large 420g £4.00
Medium 330g £3.50
Small 210g £2.50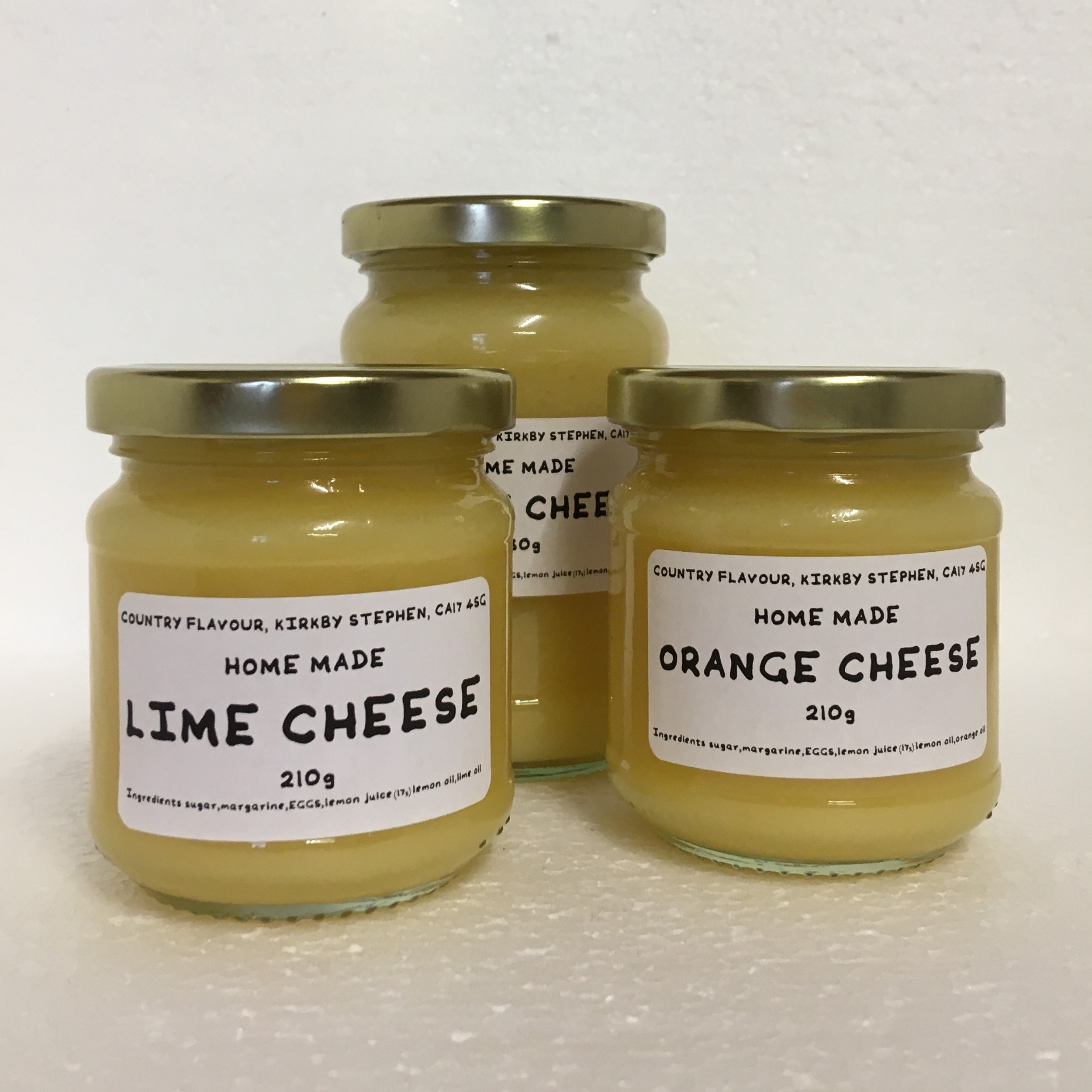 LIME & ORANGE CHEESE
Lime Cheese - A sharper tangier alternative to our lemon cheese.
Orange Cheese - Made with fresh orange zest for added fruity flavour.
Medium 330g £3.50
Small 210g £2.50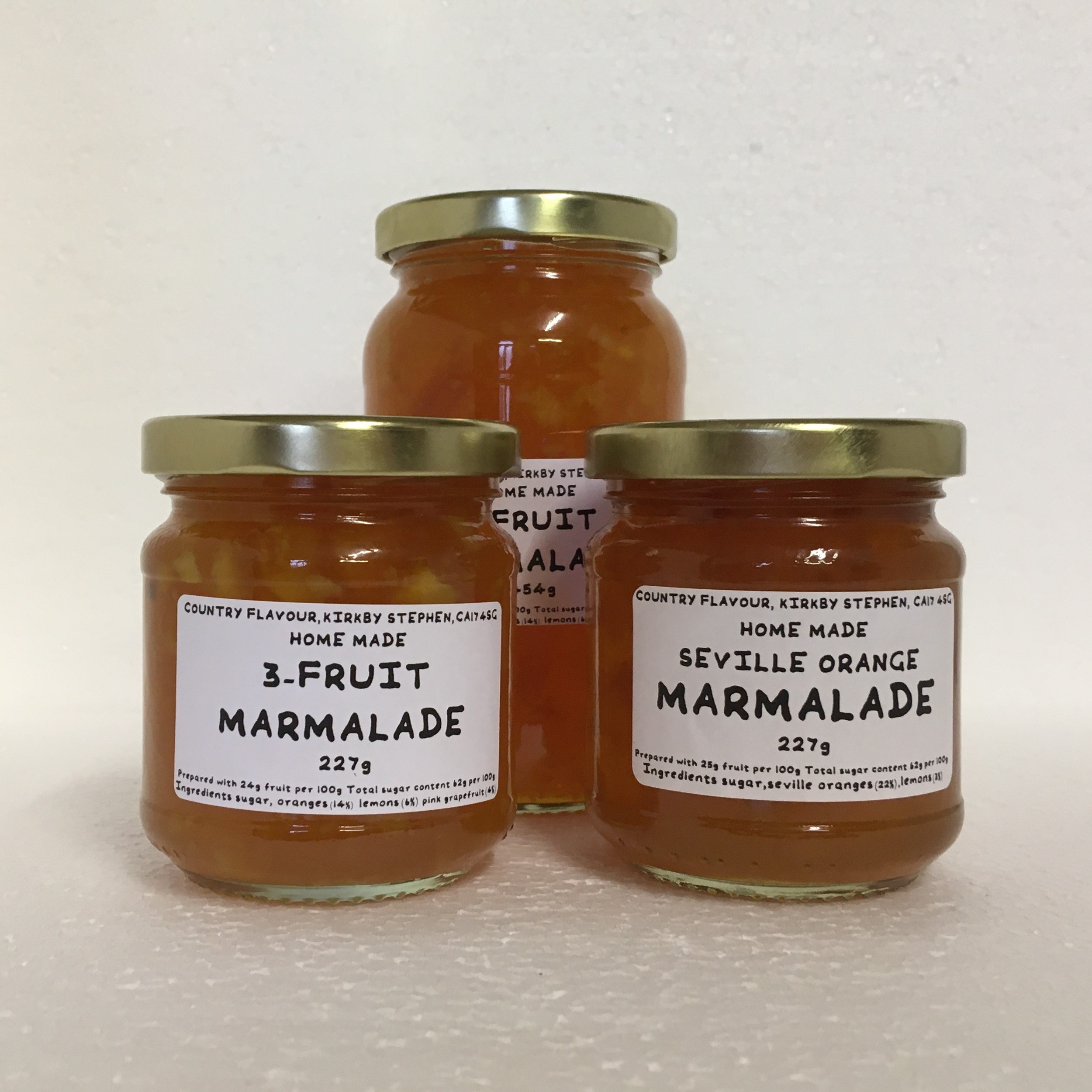 MARMALADE
Seville Orange Marmalade - This popular marmalade is made of the finest oranges, to create a delicious taste
Three Fruit Marmalade - Made with oranges, lemon and red grapefruit, this scrumptious marmalade is excellent in the morning with toast.
Large 454g £4.00

Small 227g £2.50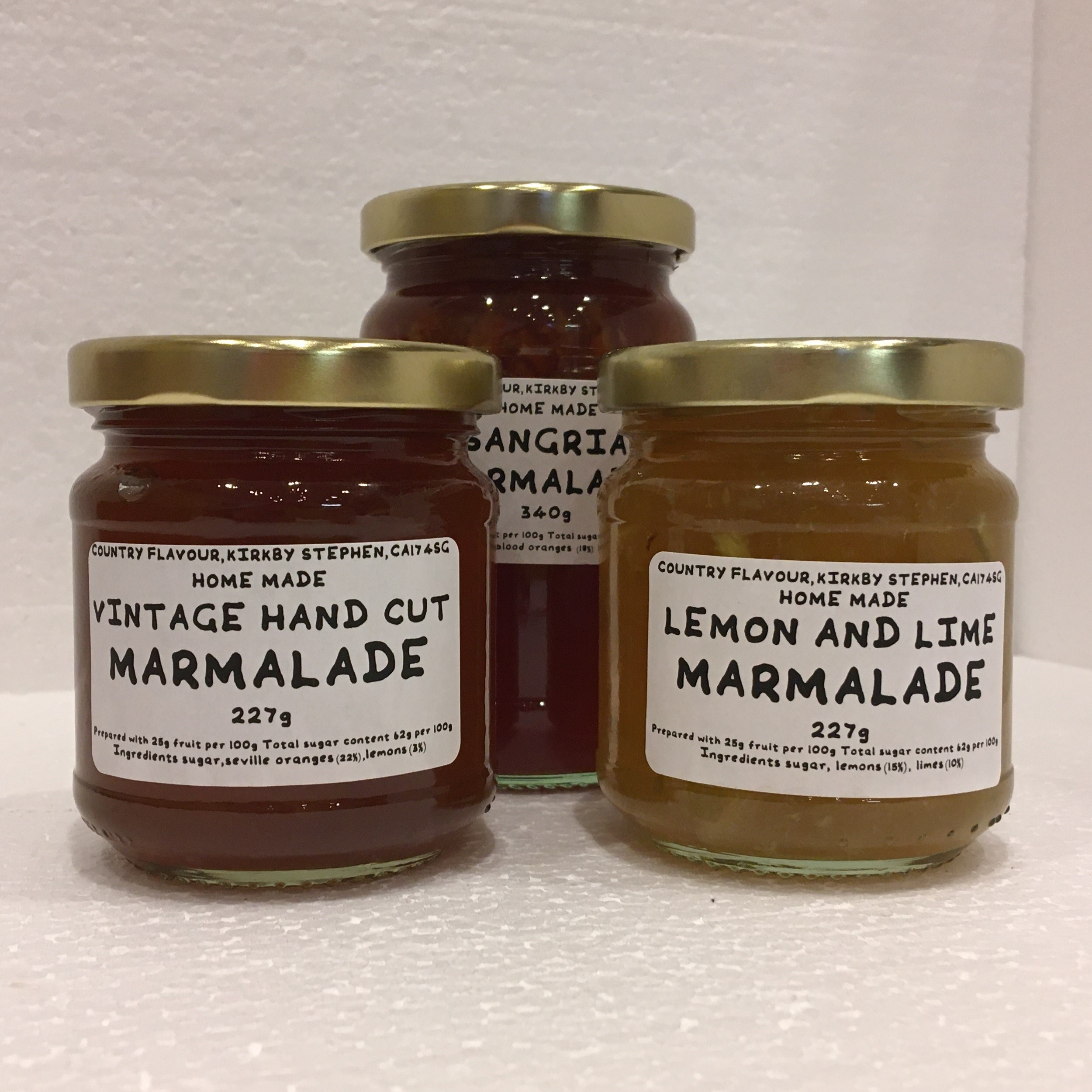 Whisky Marmalade - Our yummy marmalade with a wee dram of whisky.
Hand Cut Vintage Marmalade - A lovely chunky hand cut marmalade.
Three Fruit & Ginger Marmalade - Made with orange, lemon, grapefruit and ginger, this is a very tasty treat.
Reduced Sugar Marmalade - Our same delicious marmalade with 42% less sugar creating the sharpest tasting marmalade.
Medium 340g £3.50
Small 227g £2.50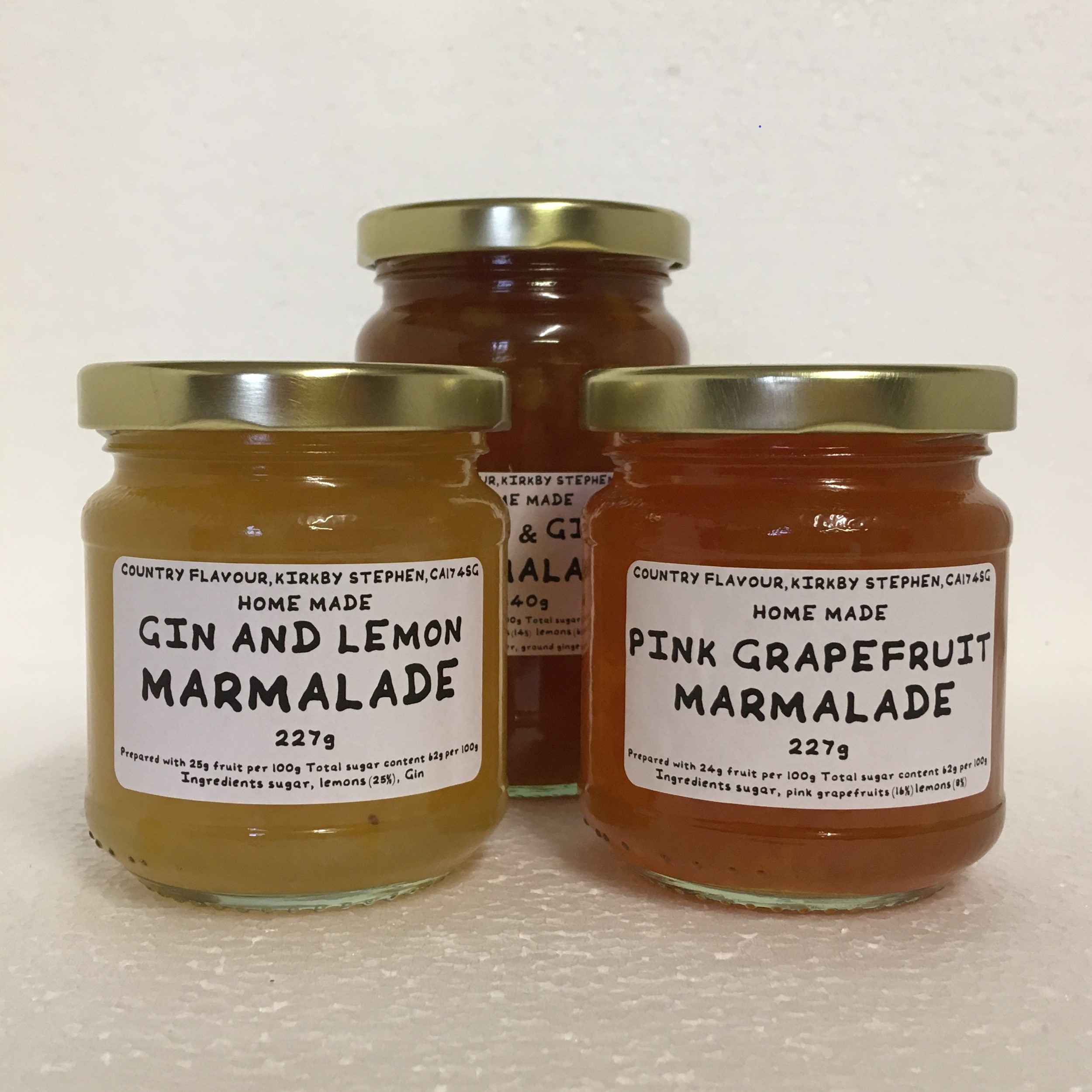 Pink Grapefruit Marmalade - This has a deliciously distinctive taste, and goes down well at markets.
Lemon & Lime Marmalade - A fresh and zesty taste, perfect for breakfast time.
Gin & Lemon Marmalade - 1.5l of gin and 14 lemons!!
Sangria Marmalade - Fresh blood oranges, lemons and spiked with a punchy port wine.
Blood Orange Marmalade - The sweetest tasting of all our marmalades.
Medium 340g £3.50
Small 227g £2.50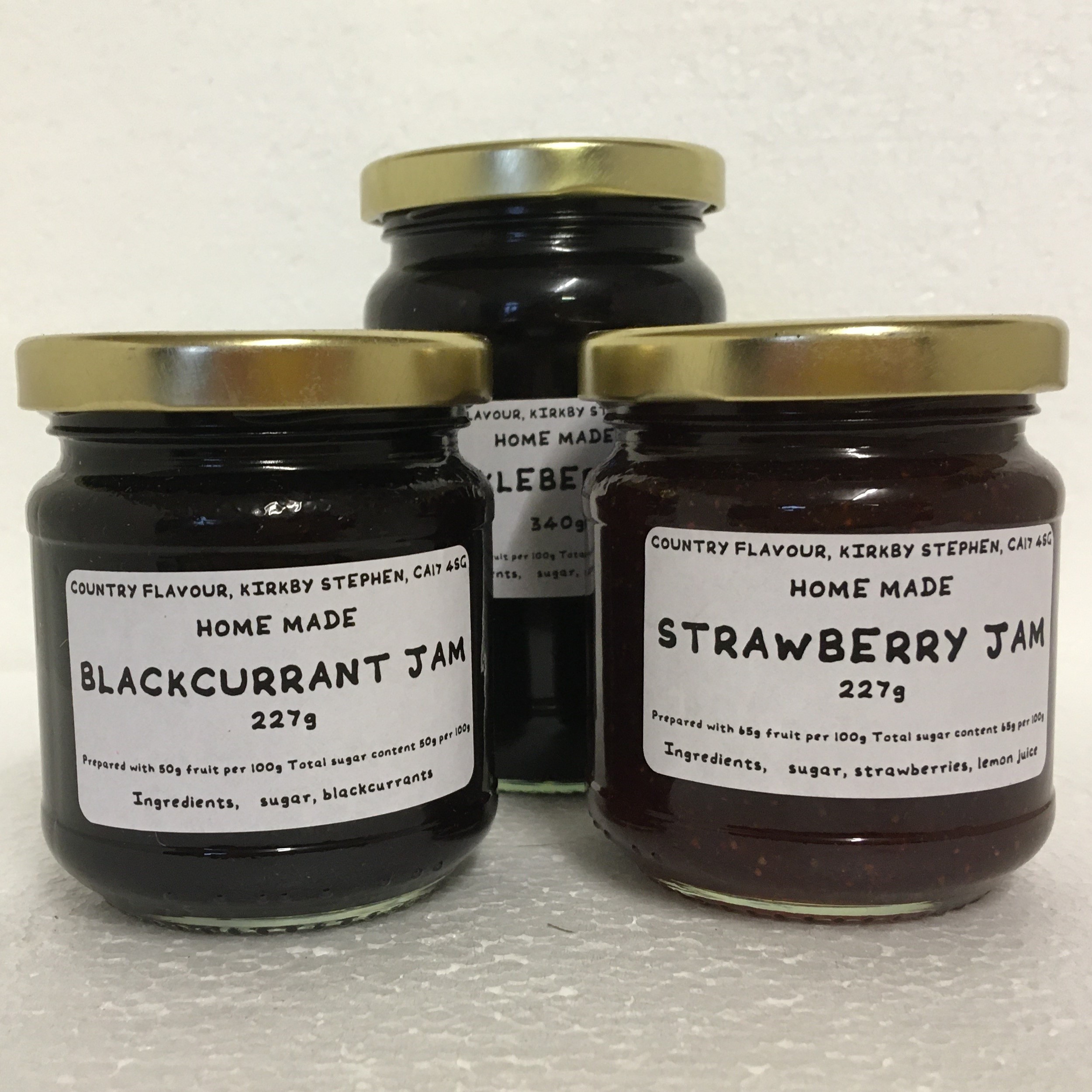 JAM
Strawberry Jam - So good it deserves a scone!!
Raspberry Jam - A classic, perfect for toast.
Damson Jam - Made from locally grown damsons.
Blackcurrant Jam - A lovely sharp jam.
Medium 340g £4.00
Small 227g £3.00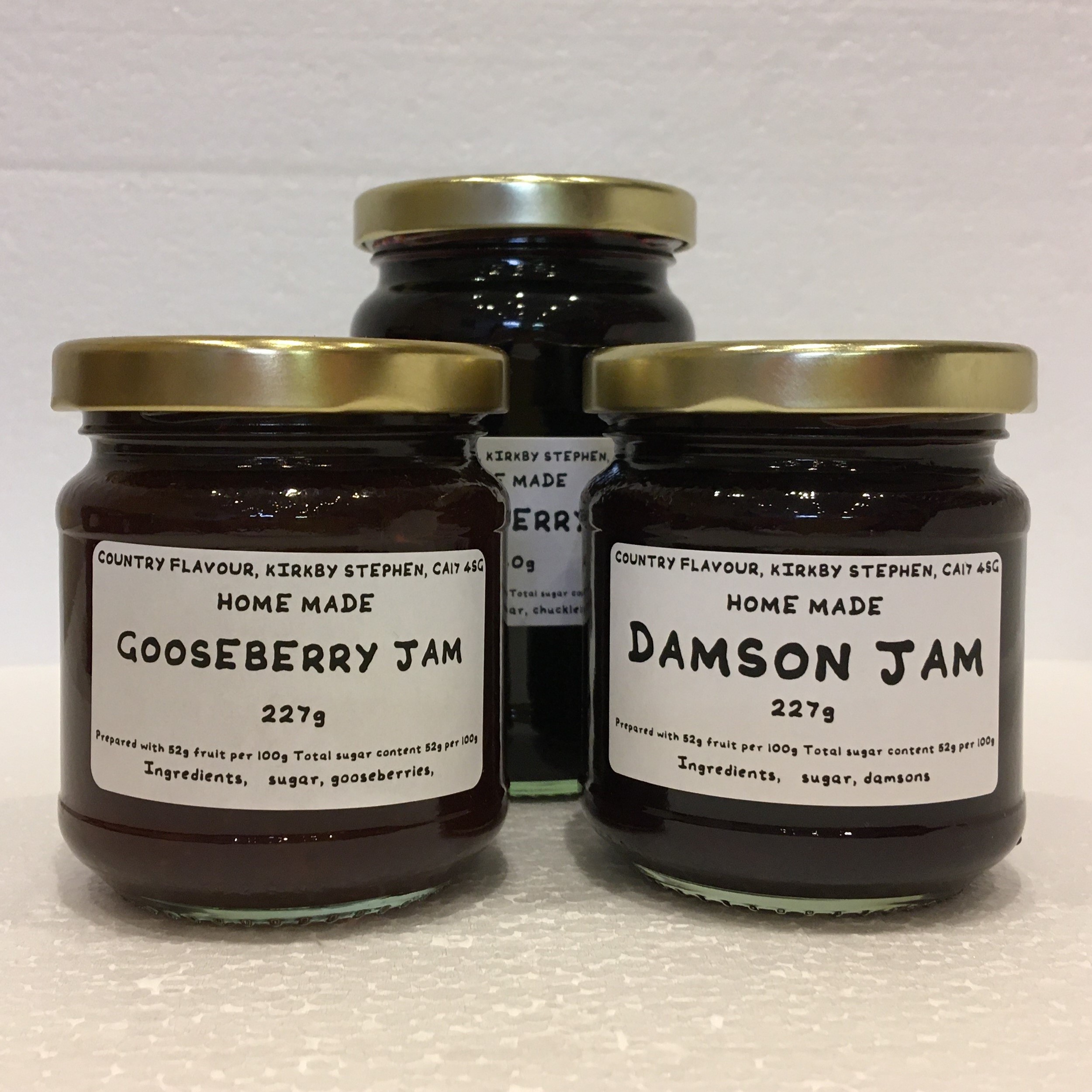 Chuckleberry Jam - New hybrid fruit a cross between a blackcurrant, redcurrant and a gooseberry.
Bramble Jam - Also known as blackberry depending on where you are from.
Gooseberry Jam - A deliciously sweet and tangy preserve.
Apricot Jam - A lovely sweet and sticky jam.
Summer Berry Jam - A lovely mix of strawberries, raspberries, redcurrants and blackcurrants.
Medium 340g £4.00
Small 227g £3.00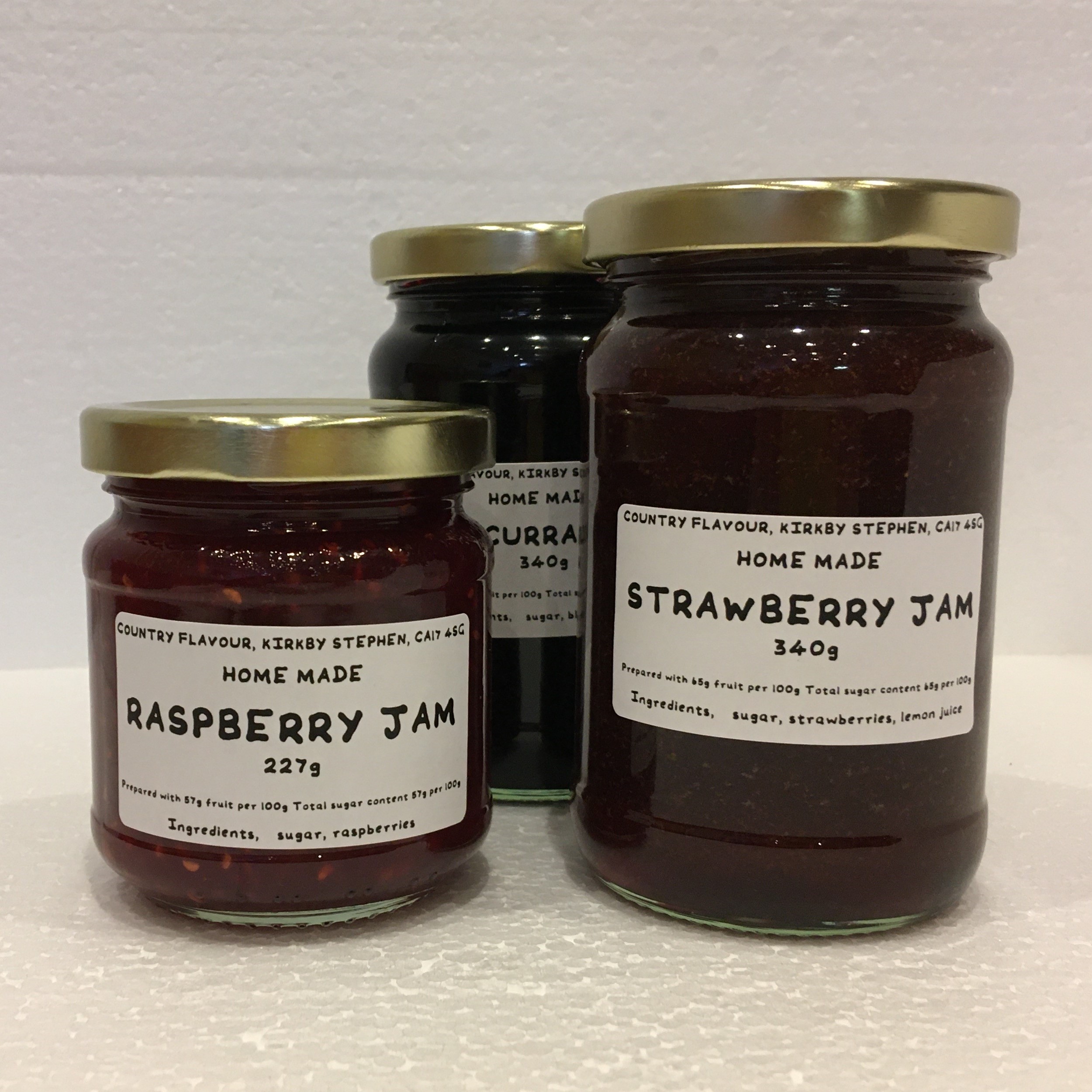 Gooseberry, Elderflower & Gin Jam - Cumbrian gooseberries infused with elderflower and a kick of gin.
Plum Jam - Locally grown plums go into making this delicious jam.
Rhubarb & Ginger Jam - Rhubarb from our own garden with chopped and ground ginger.
Medium 340g £4.00
Small 227g £3.00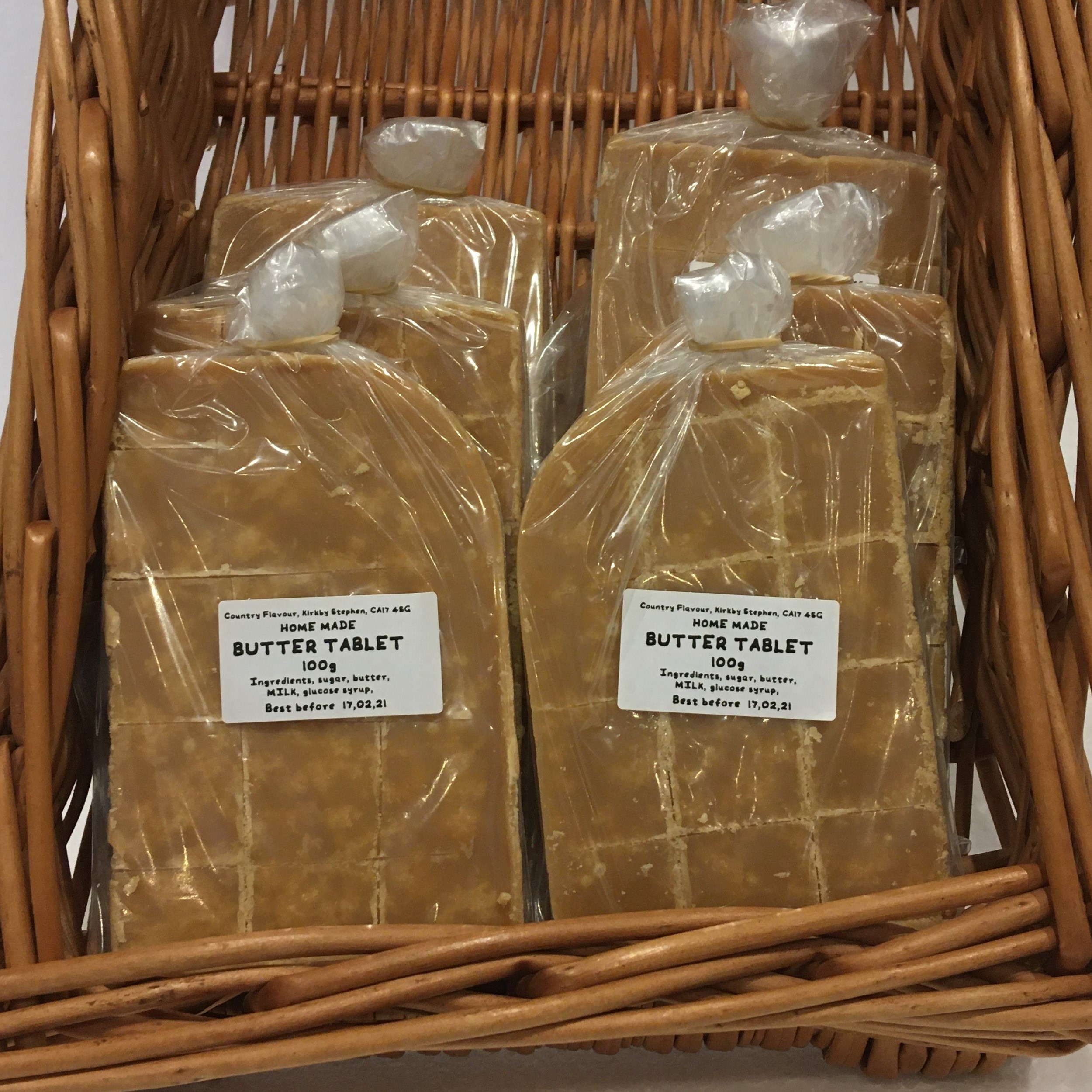 FUDGE
Chocolate Fudge - This fudge is ideal for chocolate lovers!
Chocolate Orange Fudge - Perfect for chocolate & orange lovers!!
Cumbrian Butter Fudge - Local produce goes into this fudge to create this rich fudge.
Ginger Fudge - A strong ginger fudge made using the finest ingredients.
Bailey's Irish Cream Fudge - Made from Baileys Irish cream, this light fudge has a unique and satisfying taste.
Butter Tablet - This traditional plain fudge is one of our most popular products.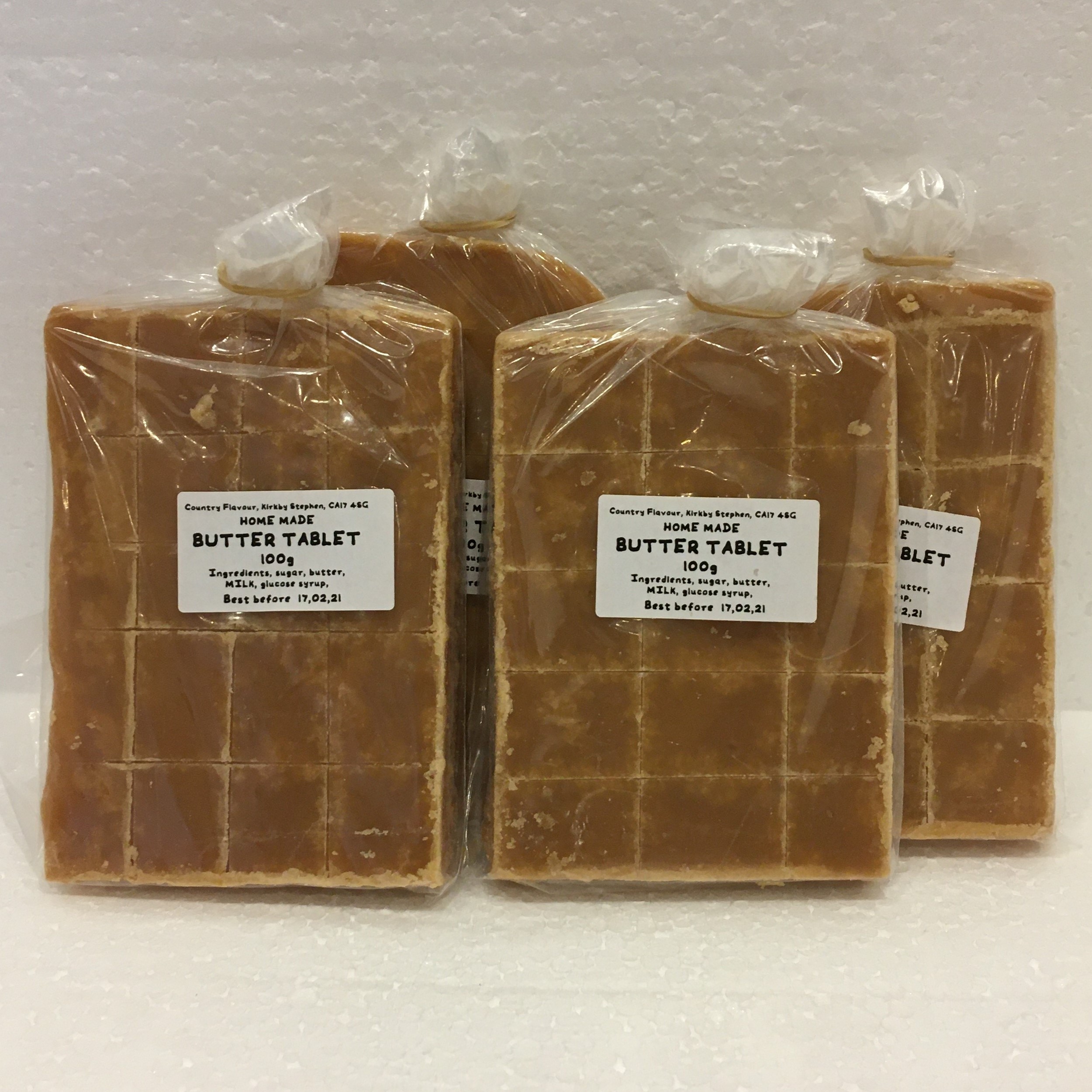 Treacle Toffee - Ideal for bonfire night, and all year round
Salted Caramel Fudge - Delicious, a favourite of the staff at Country Flavour.
Raspberry & White Chocolate Fudge - Made with real raspberries with a topping of flaked white chocolate.
Elderflower & Lemon Fudge - Infused with dried elderflower with a sharp lemony twist.
Vanilla Fudge - A classic creamy vanilla fudge.
Coffee Fudge - A strong tasting fudge that is perfect for a snack
Rum & Raisin Fudge - A popular fudge, with lots of flavour
100g Bag £2.50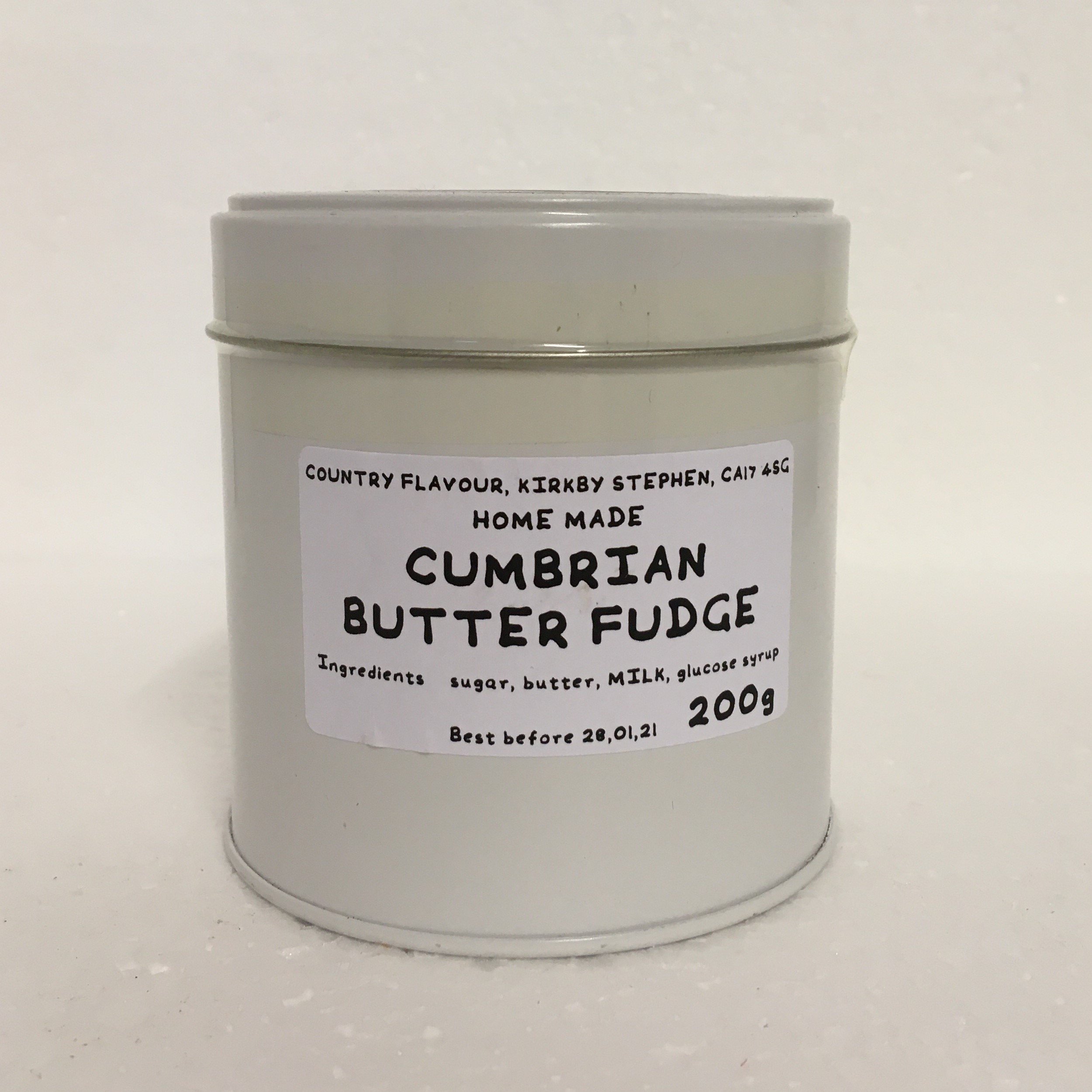 CUMBRIAN BUTTER FUDGE TIN
200g of our delicious butter fudge in a tin perfect for a gift or just a treat for yourself!
Fudge tin 200g £5.00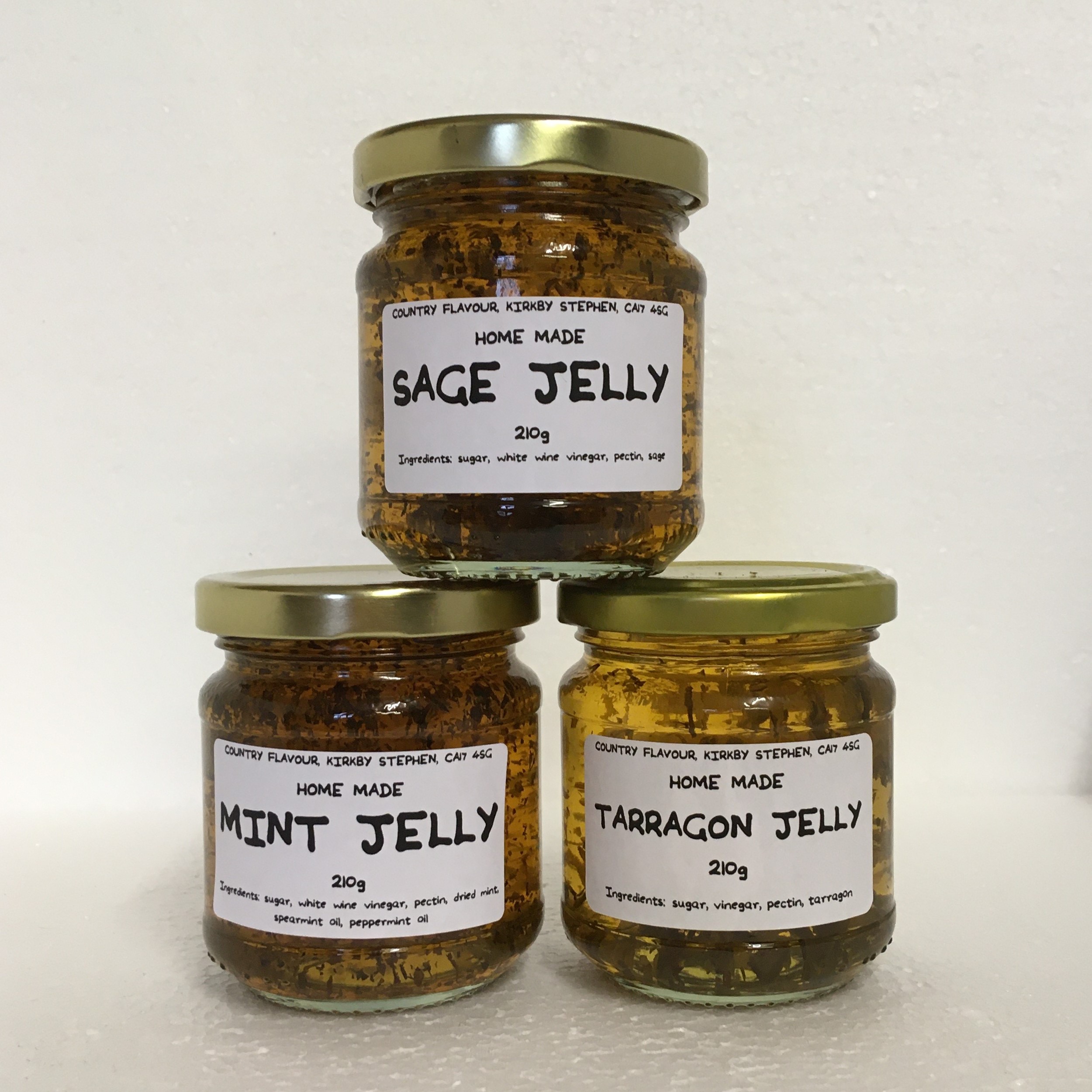 JELLIES
Mint Jelly - The most popular and versatile of our Herb Jellies. It is a superb accompaniment to roast lamb, and is also delicious with cold meats and salads.
Rosemary Jelly - A lamb lover's gourmet garnish.
Tarragon Jelly - The perfect companion to chicken and should also be tried with pheasant. This delicate flavour is also a superb compliment to a wide range of fish dishes.
Sage Jelly - This jelly tastes delicious with pork and duck dishes.
Thyme Jelly - Exquisite with roast beef dinner. This unique taste is also lovely as a glaze for pork or turkey.
Small 210g £2.00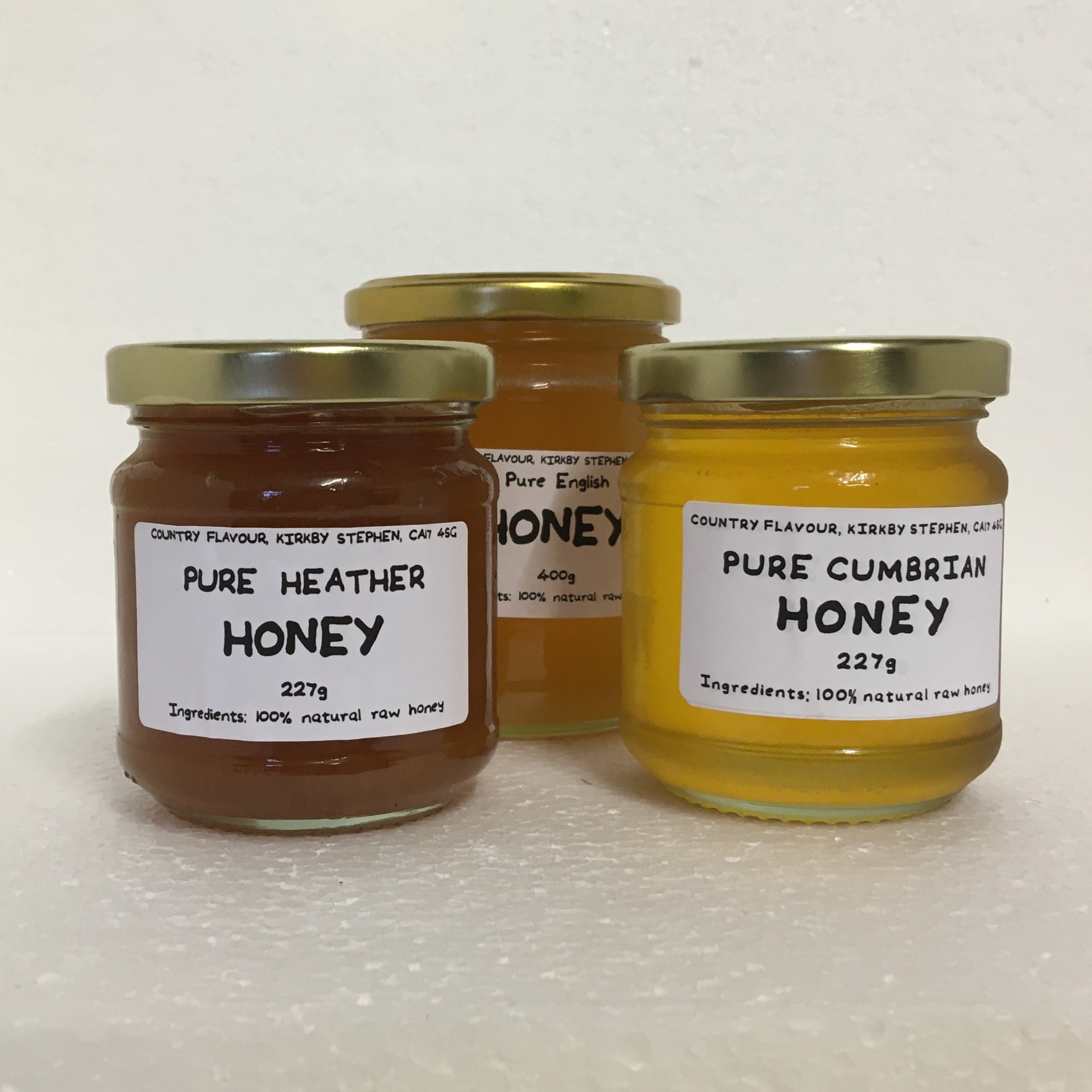 HONEY (when available)
Clear Runny Honey - 100% pure local unpasteurised raw flower honey.
Soft Set Honey - 100% pure local unpasteurised raw flower honey.
Small 227g £4.00
Large 400g £6.50
Heather Honey - 100% pure unpasteurised raw heather honey from the North York Moors.
Small 227g £5.00
Large 350g £8.00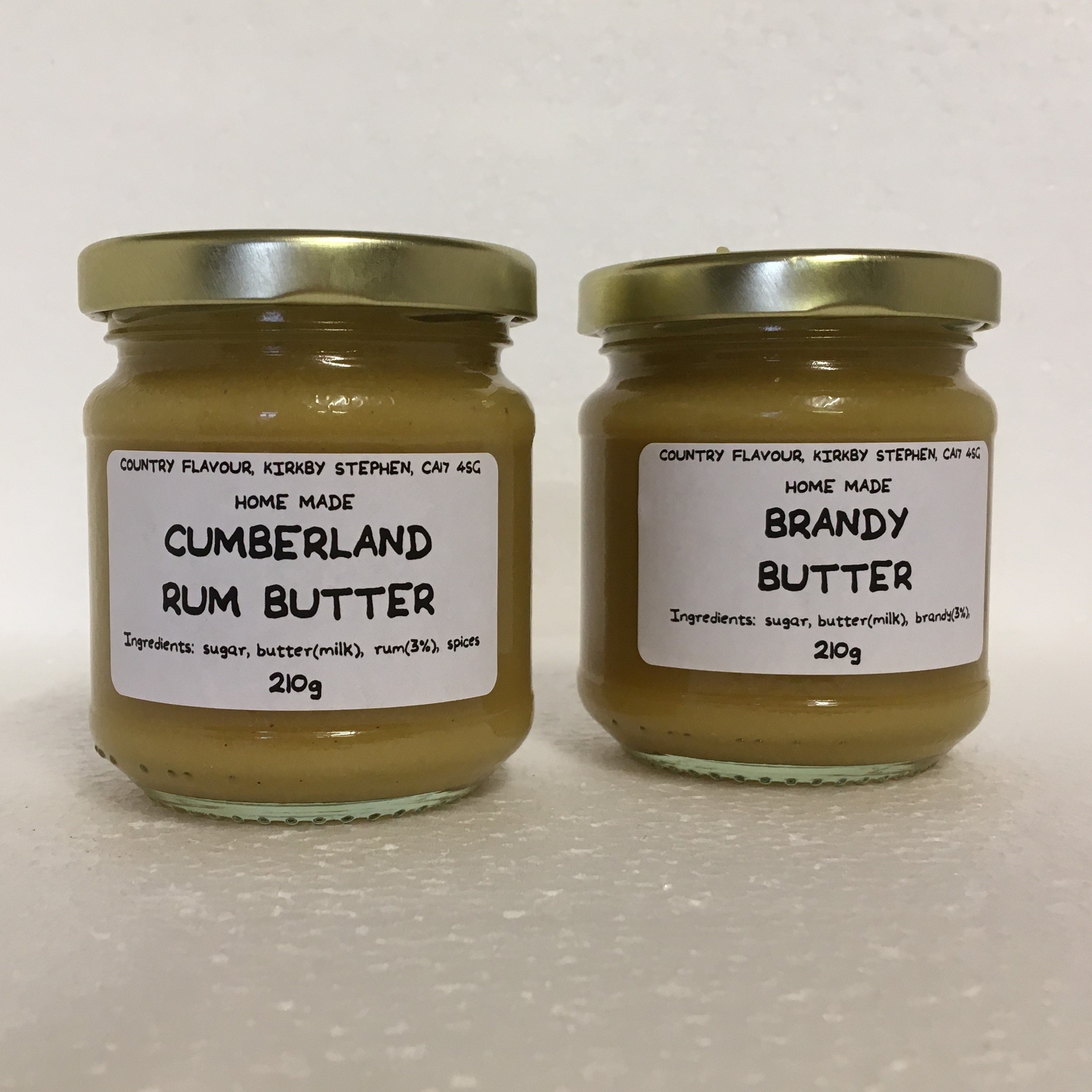 BUTTERS
Cumberland Rum Butter - Traditionally made using dark sugar, spices and rum perfect for having with a mince pie or two over Christmas time.
Brandy Butter - A rich sweet sauce lovely served cold with Christmas pudding.
Small 210g £3.00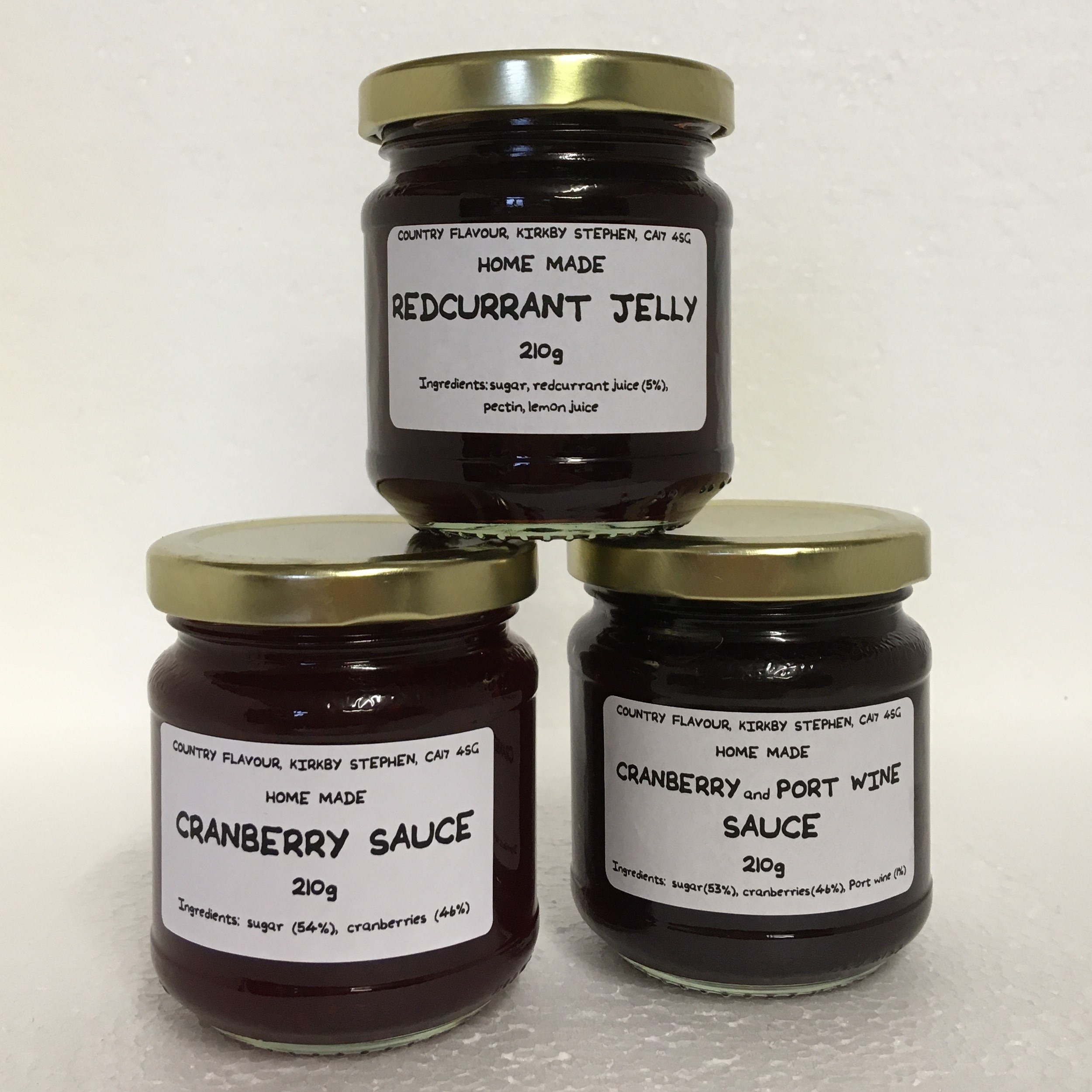 REDS
Cranberry Sauce - Traditional cranberry sauce perfect for the Christmas turkey but superb all year round with chicken.
Cranberry & Port Wine Sauce - Classic cranberry sauce with a rich addition of port.
Redcurrant Jelly - Lovely with red meats, pies and sausages.
Port Wine Jelly - Delicious with cheese, meats or to make a nice jus.
Small 210g £3.00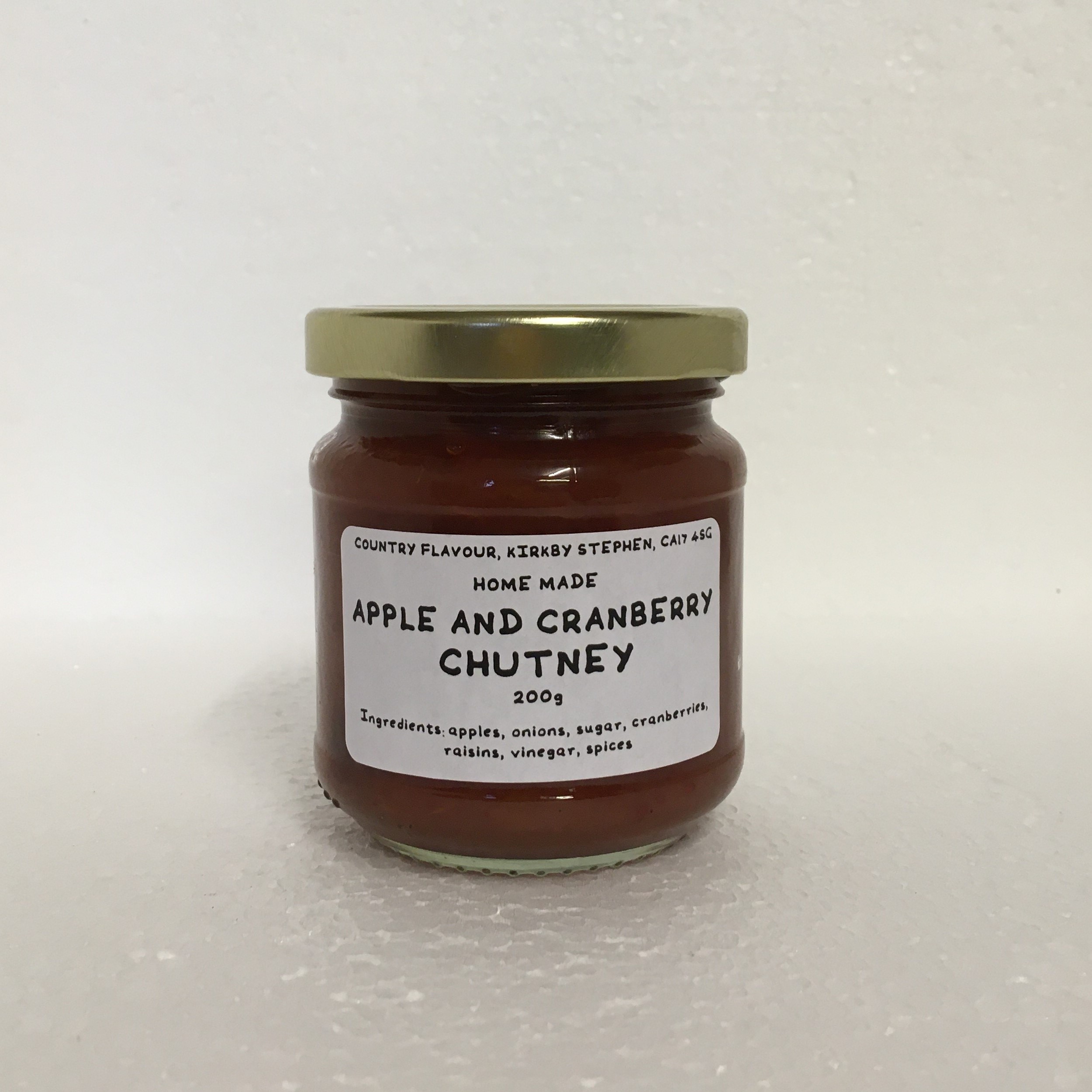 CHUTNEY
Apple & Cranberry Chutney - An original fruity chutney, delicious with cheese and cold meats.
Rhubarb & Date Chutney - A lovely fruity flavour, perfect with cheese.
Small 200g £3.50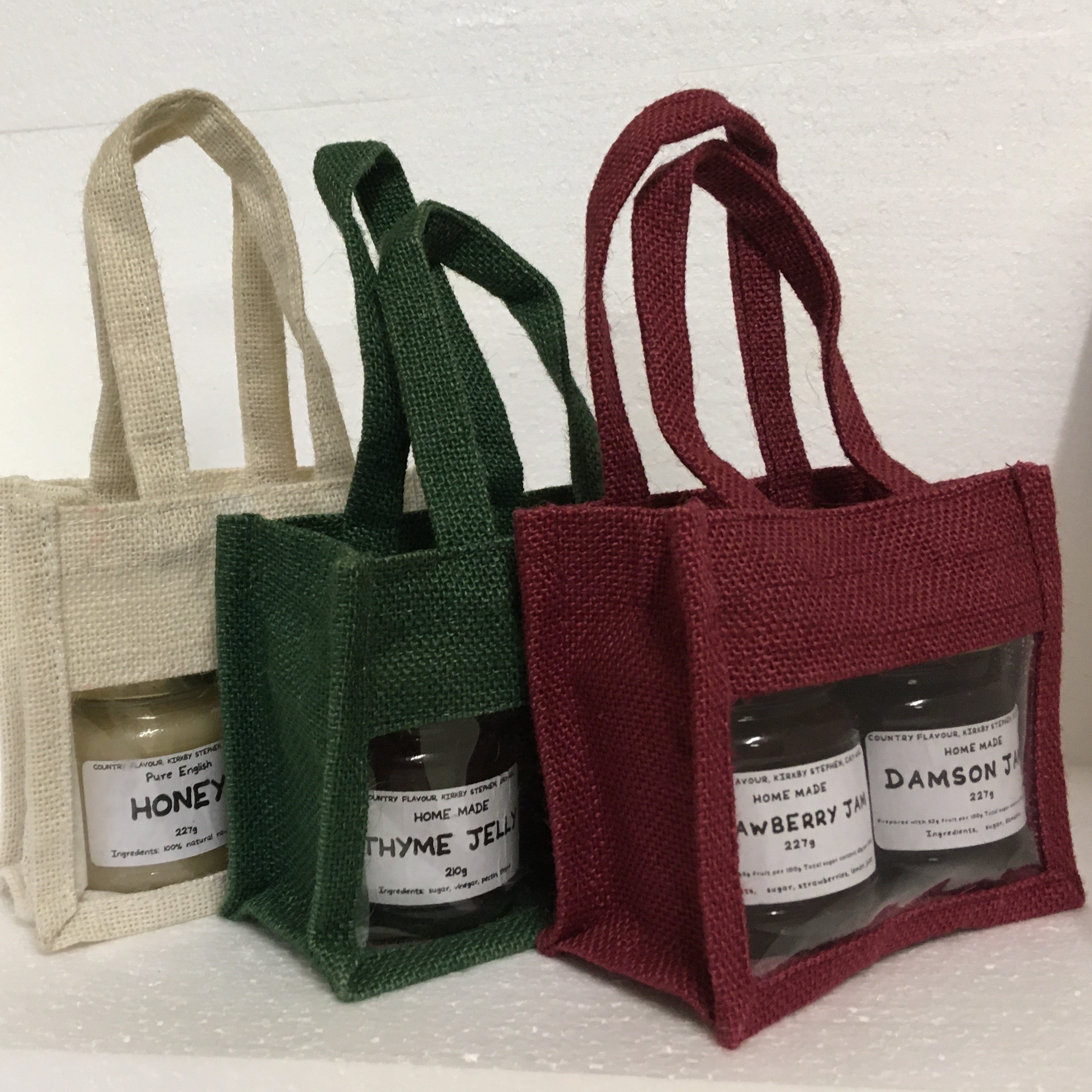 2 SMALL GIFT BAG
This jute gift bag carries 2 small jars and makes a lovely gift.
Choose any 2 small jars from our products. Available in an array of colours.
Blue, green, natural, red, white, hot pink, pale pink, purple, lilac and burgundy.
(excludes honey)
£9.00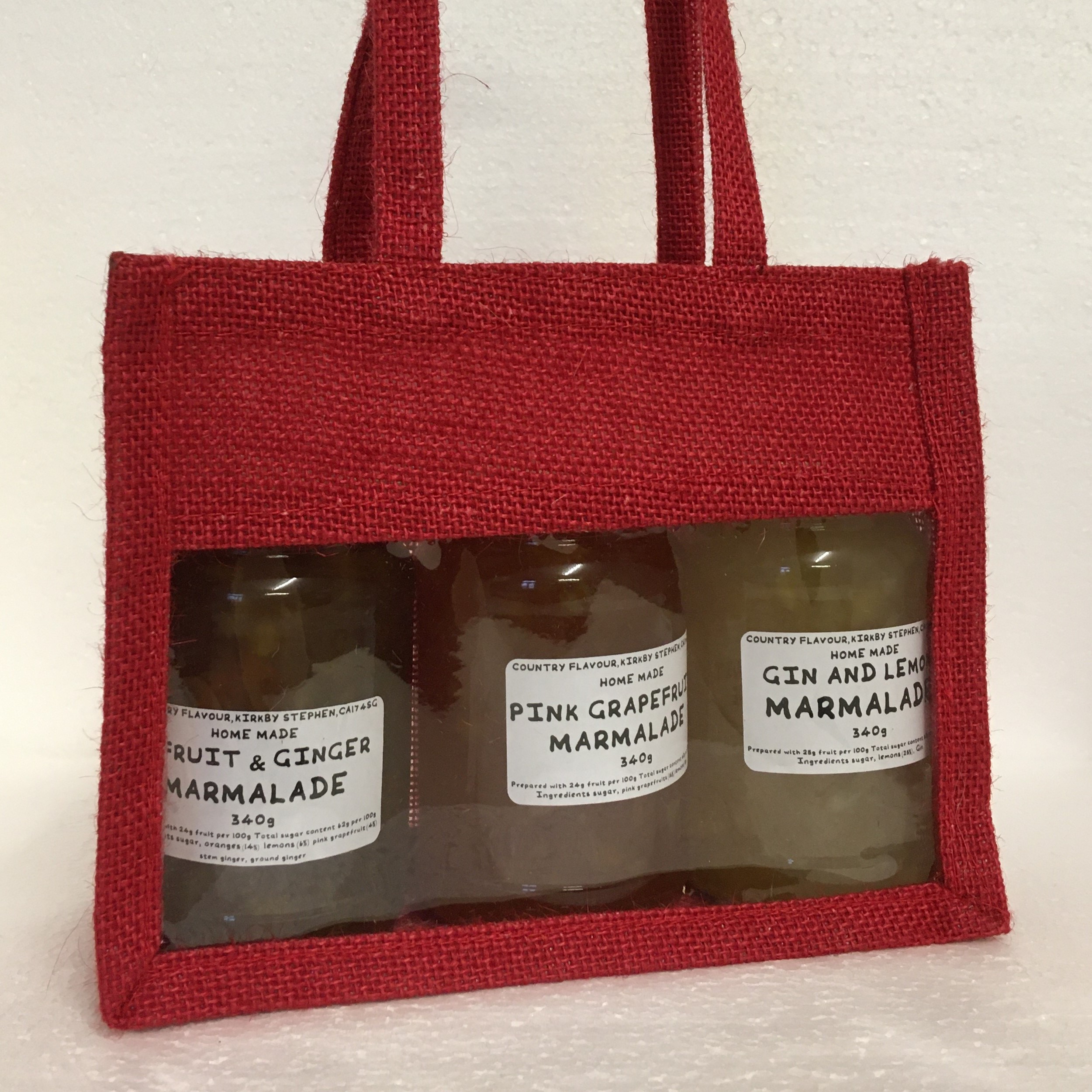 3 LARGE GIFT BAG
This large jute gift bag fits 3 of our medium jars. Choose 3 marmalades, 3 jams or a mix.
Available in 5 colours.
Natural, red, green, white and pale pink.
(excludes honey)
£13.00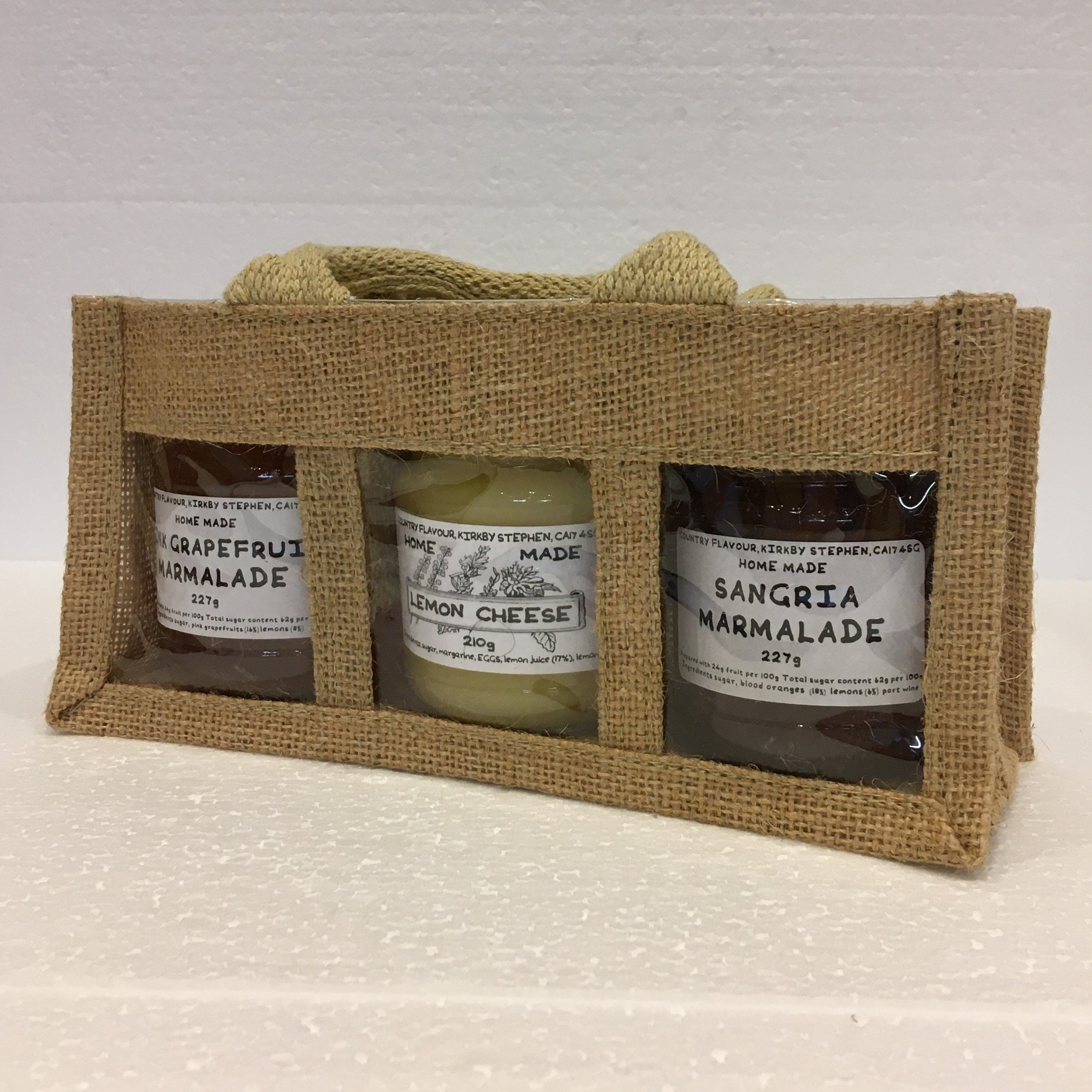 3 SMALL GIFT BAG
These lovely jute bags only come in natural, choose 3 small jars to give as a gift.
(excludes honey)
£10.00